Poundland Tell Us Survey: Poundland is a United Kingdom-based store where you can buy everything for almost £1. Is there something that you always wanted to express about Poundland? Here is an opportunity to do the same. Poundland offers a customer satisfaction survey at www.poundland.co.uk/tell-us for everyone to express their opinion. Not only that, but they are also offering a reward for the Survey.
In this article, we have tried to show you step-by-step methods to complete the Survey, along with other details like the rules of the Survey Prize draw, contact details, and more. Go through the article and carefully understand how and why you should complete the Poundland customer satisfaction survey. Let us not wait any more time!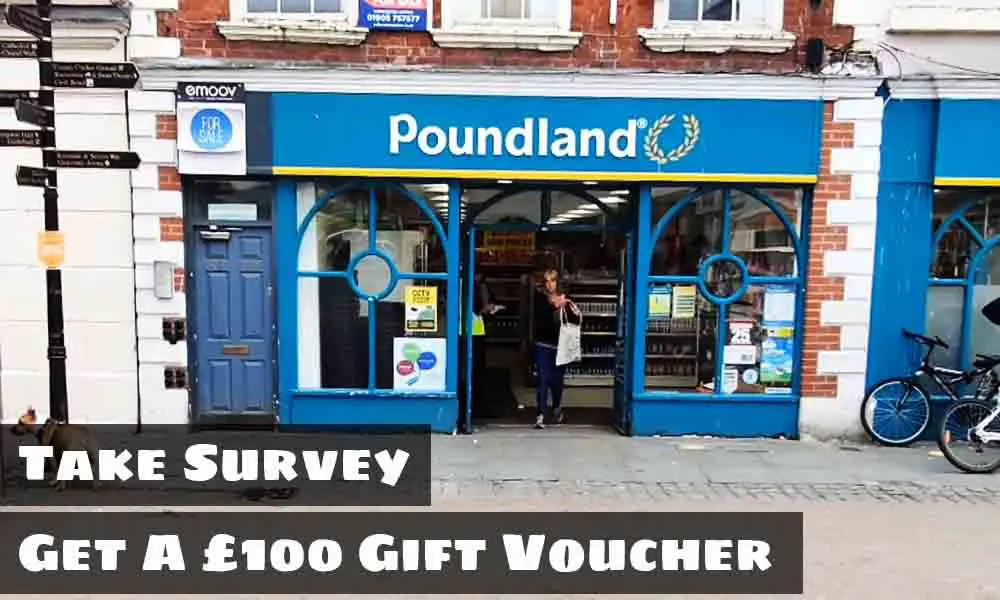 Purpose of the Poundland Tell Us Survey
Surveys help Poundland to improve itself for its customers. They are always open to all criticism, and also they love to hear the things their customers like. Poundland values the wishes of its customers, and customer satisfaction is one of its most important key goals.
www.Poundland.co.uk/tell-us Survey Reward
This is now, by far, the best news for you. Not only will you get a better store by the end of the Survey, but you might also get something rewarded by the store. The customers can get £100 vouchers by the end of the Poundland Tell Us Survey.
After completing the Survey, you will be added to a prize draw to receive the reward. Once the reward winner is announced, Poundland will contact the winner and can get their prize. The prize will be received as 10 vouchers of £10 each, which cannot be exchanged for cash. Also, the Poundland voucher is not transferable.
Poundland Survey Rules and Requirements
The Poundland survey is open to UK residents only.
Purchase is not necessary to participate in the Poundland Customer Survey.
All the entrants should be age 16 or more to participate in the Survey.
The employees of Poundland, their immediate family members ( father, mother, children, spouse, siblings), agents, representatives, etc., cannot participate in the Feedback Survey.
3rd party entries are considered invalid.
If any type of malpractice is found and you will be disqualified from further Poundland competitions.
More survey entries exceeding one will be filtered out before the Poundland Tell Us prize draw.
The Poundland survey reward voucher cannot be exchanged for cash.
All entries should be entered online via www.poundland.co.uk/tell-us. The Survey cannot be submitted via e-mail or phone.
All the participants are requested to complete the Survey; incomplete surveys will not be transferred for the prize draw.
The Poundland survey reward can be used for up to 12 months.
If you are the winner, you will get a notification within 14 days from the closing date.
The winners are supposed to claim the deal within 28 days of being notified.
Any violation of terms and conditions is not tolerated by Poundland.
Quicksteps to Win £100 Poundland Vouchers
Open the browser via phone, computer, or similar devices and go to www.poundland.co.uk/tell-us.
Then, select whether you have a receipt or not and enter either your transaction number or the store you have visited.
You will be asked several questions like the frequency of the visit, intention behind the visits, ease of shopping, the value of money, stocks, customer service, helpfulness of the staff, and more.
Answer all the questions honestly. You will be given chances to explain the issues faced and also to express the things you like or want to change.
After answering all, you will be asked to fill out your contact details. Submit the Survey and wait for the announcement of the prize.
How to Do the Poundland Survey at www.Poundland.co.uk/tell-us – Detailed Guide
1. Open a device where you can have a fair internet connection. Go to the official website designed by Poundland at www.poundland.co.uk/tell-us.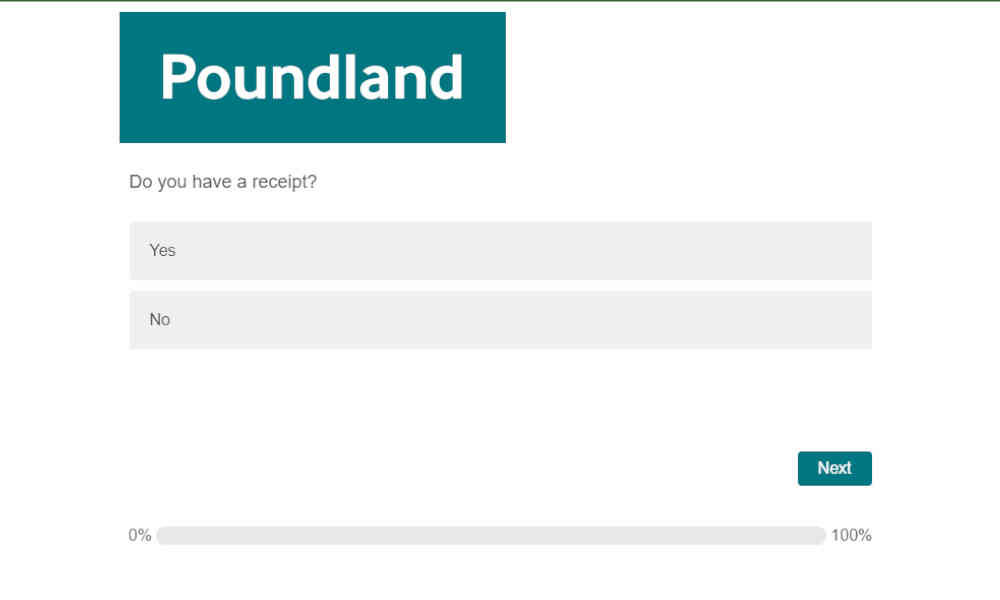 2. The Survey can be taken even without any purchase; hence you will be asked whether you have purchased from the store or not. After answering, go to the next section of the Poundland Tell Us Survey.
3. If you have a receipt of the purchase, enter the transaction number mentioned at the bottom of your receipt.
4. If you don't have the receipt, enter the store name you have visited.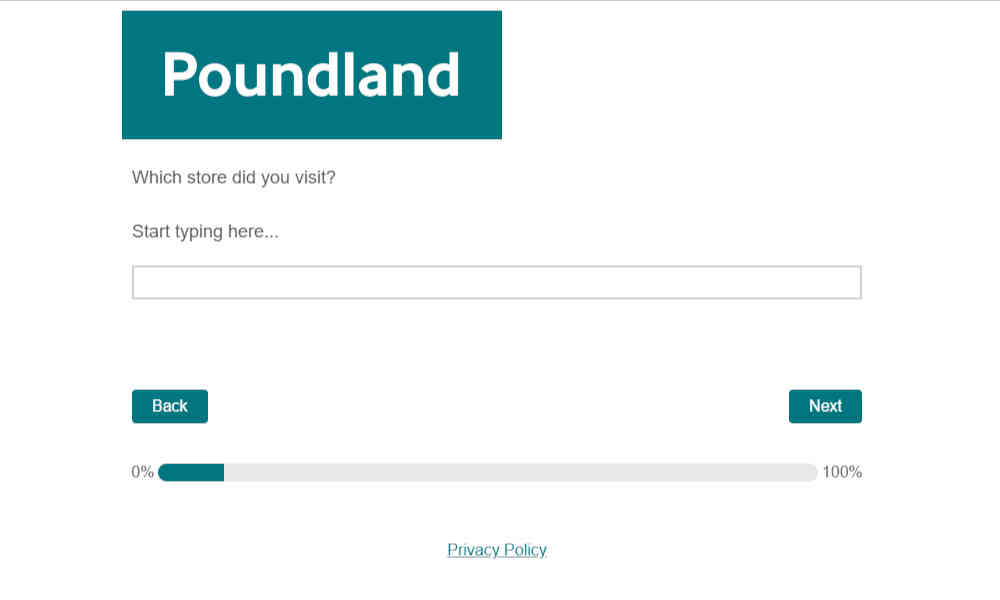 5. In this part of the Poundland customer satisfaction survey, you will be asked why the visit is, how often you visit the store, and more. After answering all the questions honestly, move on to the next part.
6. Then, you will be asked to rate Poundlands through several questions. The questions will be about your satisfaction level.
7. You will also be given a space to write if you wish to express more.
8. If you have any particular staff in your mind that gave you a beautiful service, you will be given a chance to mention them as well.
9. Finally, if you have any suggestions that you would like Poundland to make, you can mention them. It can be both positive and negative.
10. After completing this questionnaire, enter your full name, age, gender, and e-mail id.
11. By the end of the page, there will be a box to agree with the terms and conditions of the Survey. It is mandatory to tick it.
12. Submit the Survey by clicking the Done button.
Poundland Customer Survey – Helpful Tips
All Poundland Tell Us Survey entrants must check their e-mail inbox daily, especially the first 14 days after closing the prize draw.
You should enter your contact details correctly because that is the only detail available to the company.
You can discuss your issues regarding the Pounlad feedback survey here at surveydetails.co.uk and get our help to complete the Survey.
About Poundland
A British variety retail chain, Poundland opened in 1990 and sells a wide range of items for a single price of £1, which includes clearance sales and its label. The very first pilot shop launched in December 1990, following multiple denials by landlords who were wary of permitting a single-price store to establish because they feared it would harm local competition.
Premier Holidays Customer Survey | www.premierholidays.co.uk/survey | Get a £100 Voucher
Hungry Horse Customer Feedback Survey | www.hungryforfeedback.co.uk | Win £1000
Poundland Contact details
Fill in the contact form given on the page www.poundland.co.uk/help/contact-stores.
Support is available from Monday to Saturday (9.00 – 17.00)
McDonald's Get Big Mac & Fries Offer Survey @ www.Mcdfoodforthoughts.com
Lidl UK Customer Feedback Survey | Lidl.co.uk/haveyoursay | Win a £100 Gift Voucher
Final Words
We hope we have given you a good idea of how to complete the Poundland Tell Us Survey. Carefully read the article, understand the steps and the terms for the feedback Survey, and hold onto their site to complete it. Make sure to read the terms and conditions there as well before committing to anything.
If you found this article, please share it with your family and friends. Let them also know about the Poundland customer satisfaction survey at www.poundland.co.uk/tell-us; who knows, they might be interested in these as well. Good luck!!!
CLICK HERE TO ENTER THE SURVEY
References